It was like a Jedi mind trick.
After the step 5 confession, my sponsor began to turn all of the character defects I admitted on their head. He listed examples of how I've done the opposite of each since I've been in recovery. It was an amazing time of affirmation. Made me look forward to the rest of the 12 steps.
It felt like progress.
I began to make a list of these positive character traits (or attitudes). Take a look at my list and leave a comment to add your own thoughts.
ME in RECOVERY — ME in ADDICTION
Honest — Lying
Patient — Demanding
Brave — Fearful
Gritty — Lazy
Selfless — Selfish
Confident — Self pity
Decisive  — Confused
Straightforward — Manipulative
Believing — Cynical
Humble — Prideful
Moral — Amoral
Accepting — Judgemental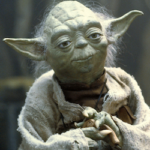 This list has been on my mind all week. I've been asking God to replace the former defects with their opposite. Then I've been looking for ways to act on these new character assets.
** Side Note, wouldn't Yoda be an awesome AA sponsor?
Yesterday, I reached out to my friends on Twitter with similar question about positive character traits.
@sobertony Honesty and willingness

— seanologues (@seanpaulmahoney) April 20, 2017
@hdbigjourney @sobertony Honesty, Acceptance, patience

— susanroeder (@susanroeder) April 20, 2017
@SoberByDesign @sobertony Faith and the desire to stop using

— Peter (@TheSt1ck) April 20, 2017
Here are the top responses:
Self-awareness
Patience
Honesty
Acceptance
Willing to learn
Faith
Desire to stop using
Willingness to change
Hope for the future
H.O.W.  – Honesty, Open-mindedness, Willingness
I see lots of the same ideas – confirmation that I'm on the right track. It's been 66 days of sobriety and I'm amazed at how quickly my life (and character) are changing.