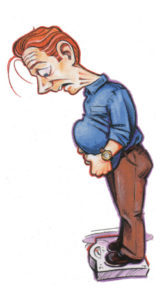 Drinking has made me fat.
That's no secret.
My size has grown along with my alcohol abuse. Beer belly is the right name. Over the last 2 years of increasing drinking, I've added 35 pounds. Obviously alcohol weight gain.
Now I'm committed and moving forward in my recovery, should I expect to lose weight?
Just from a calorie standpoint this should be obvious. My two bottles of wine were nearly 1300 calories. Even 10 bottles of light beer could be 1200. Eliminating that should be a real step in the right direction.
I also had a bad habit of drunk eating. As my drinking would wind down, I liked to have a late night snack. That could be half a pizza or a couple sandwiches.
One other upside is my renewed interest in exercise. My first 10 days sober wouldn't have happened without the jogging and other physical activity. I'm even considering a return to CrossFit once I buy bigger gym clothes.
The real negative was my first few days of sobriety. I was so crazy and stressed that I ate anything in front of me. It was a food disaster marathon.
I'll update this post later, but 10 days in I'm only down about a pound.  I'm feeling very healthy overall – even a few minutes this morning when I liked myself.
I didn't quit drinking to lose weight -and I'll fight to stay sober even if I gain weight.
But it would be nice to wake up sober and a little closer to skinny.