Let's be honest. I'm becoming a human Care Bear.
I've escaped the Dungeon of Alcohol and I'm lost in the Forest of Feelings. My life is still a wreck but I feel invincible.
Not sure where to live – no problem I have 3 good choices.
Maybe I'm bipolar – hey that explains a lot.
Not sure which language to speak – that's cool I'm bilingual.
Probably getting divorced – I'm still cute for 39.
Child support forever – good thing I've got income.
50k credit card – the payments aren't bad yet.
Sobriety is winning, everything else is noise. My girlfriend has me wearing pink shirts.
Recovery friends online call this pink cloud syndrome. It's finally a disorder that doesn't make me feel like shit.
If this is wrong, I don't want to be right.
I decided to track down a proper definition. As usual Urban Dictionary has the best: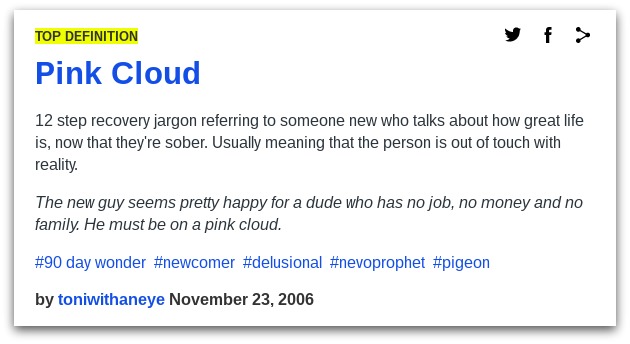 Out of touch with reality?
That seems a little harsh.
I'm just feeling what non-drinkers have known all along. Life is beautiful, especially when you're not the slave of a toxic chemical that ruins your health and erodes your sanity.
It's obvious this could end badly, especially if I'm not prepared to face my drinking triggers and avoid relapse. I'm wearing a seatbelt. The Alcohol Rehab blog listed some dangers of this experience.
While it is true that life in recovery should be about enjoying life, there can be problems if people become too confident and complacent. They may conclude that their problems are over, and that there is no need to do anything more to maintain their sobriety. There is also the risk that when the pink cloud period ends, it will lead to huge disappointment.
Sober Courage also has a great article about the Pink Cloud.
At the same time, we may be in a good place to help the newcomer to beware of the Pink Cloud euphoria, which may be short-lived and painful once it ends. It is important to encourage the newly sober person to stay on track and work the program of recovery. The ultimate problem with Pink Cloud is not the exceptional high that a recovering addicts or alcoholics experiences early in the process, but it is the risk and fallout of not staying on track with the process to maintain sobriety.
What about you? Did you have the pink cloud experience in your early sobriety? Leave a comment to share your experience. I'd love to hear your story.