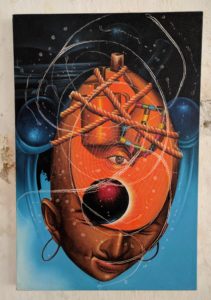 Yesterday I gave up. So it's a miracle that I made it to 75 days sober.
This week has been tough, lots of downward feelings and negative thinking. Then some travel plans​ had me out the door with 4 hours of sleep.
I was angry, whining, hungry, and ready to argue with everyone who talked to me. I was snacking of self-pity all morning and I wanted a cold beer to wash it down.
It had been building for a few hours – all the same self-talk, all the same regrets, lots of illogical anger at everyone who's trying to help me.
Then I made the decision to drink.
I ordered a beer ???? at lunch. But my girlfriend sent it back before I could pick it up. Thankful to have someone like her. pic.twitter.com/ooF0JSCO87

— Sober Tony (@sobertony) April 29, 2017
I'll call it a miracle. Here's what she said:
If you're going to drink yourself to death that's fine, but I'm not going to sit here and watch it happen.
She gets it — when I was too confused and weak to make the right choice, I needed someone to protect me from myself.
30 minutes later (after some food) I was very thankful that I didn't lose my sobriety.
I've said that I'm not doing recovery right, today I'm grateful that I can't do relapse right either.
75 Days Sober: What's the lesson?
After talking to my sponsor, he asked me to look for the lesson in this almost relapse. Here's​ what I'm thinking:
I will never be strong enough to do recovery alone. I need to seek out and accept all the help I can get.
I can't handle life without sleep and food. It's so basic, I was going crazy because I didn't take those needs seriously.
I've half-assed the higher power stuff. I never thought to pray because in that moment I didn't believe God was real – or if he's real he's not interested in my life. Even when things get bad I'm still depending on my own strength.
Sobriety is too fragile. Addiction means that things can blow up fast.
Any minute I could change my fucking mind and disappear for the next 3 years. #xa#thisiswhatanxietyfeelslike

— Sober Tony (@sobertony) April 24, 2017
Today is a new day
Forget the almost disaster. Today I have 75 days sober. Yesterday was a failure, but my recovery survived. I'm grateful beyond words.
I can't do relapse right, that's a blessing even if I'm not sure about the God stuff.
That was too close.
** Image credit Jacmel Arts Center in Haiti.