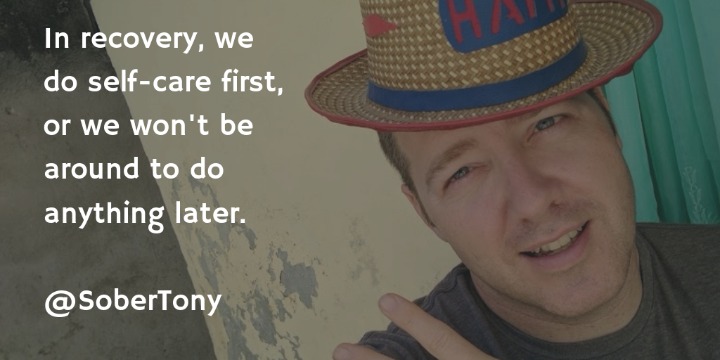 Make your hula hoop smaller. Everything and everything outside can f*ck off. Who are you kidding? You can't take care of all that shit because you're not that f*cking smart.
That's another quote from my AA experience, I love those retired Navy guys. The topic was "staying sober" and everyone was singing the same song.
When it comes to recovery, being selfish is a good thing. We have to take care of our sobriety first or we won't be here to take care of anything later.
Our job today is to not drink – anything beyond that is bonus. It's your sobriety — if you don't get this right then you won't have to worry about the rest because they won't be in their lives.
Amends is about me
I've been working the 12 steps. So far I'm on step 9 and only had one major setback. It happened when I was trying to control the other person's response to my amends. I wanted to force some kind of resolution before the other person was ready.
You're such a jerk and you're still trying to control me.
That was her accurate response. After some talks with my sponsor, I'm going to leave things alone for a while. I admitted that I was wrong and caused harm, I'm willing to do right when the person involved is ready. As the lingo says, "I've cleaned my side of the street."
That may sound selfish to someone not in the program, but it's the only way for me to move forward. I have a long list of amends and they have been done wonders for my motivation.
Besides, I'm the only one living this story.
"My recovery belongs to me, nobody else. It's not my job to convince anyone what I live through or to validate me. It's mine. @RachelintheOC pic.twitter.com/0twhOheAJN

— Sober Tony (@sobertony) May 12, 2017
Amends is not groveling
In a different situation, I wanted to press for a restored relationship even while the other person remained angry. It became clear that I could never do enough to "earn trust" again.
I'm not here to make you trust me or even like me, but I want to aknowledge that I've hurt you and I'd like to hear how I can make it right.
Once I got the line right, things got easier.
At this point in the process I'm refuse to be controlled by FEAR (of losing the relationship) or GUILT (because our higher power has removed it). That is old me behavior. As one AA speaker said, "We are all God's children, we don't need to bow before any person."
So when a person says, "Just go away." I'm ok to accept that. About 20 people down the list, including most of the hard ones, it's been incredibly helpful. The AA promises are coming true.
I'd love to hear your experience. Leave me a comment below to start the conversation.