Five weeks into my self-directed recovery, it's time to reach out for help.
I'm very open to traditional sobriety pathways. Just this week I talked with a potential sponsor and started looking at the 12 steps of Alcoholics Anonymous. Today I'm working on number two.
Step 2: Came to believe that a Power greater than ourselves could restore us to sanity.
From what I understand, this one is all about finding hope in the God of our understanding. It's about letting go of despair and choosing faith.
I don't want to shortcut this step or pretend like it's easy for me. Looking ahead, I see how the program requires divine assistance at every point. In fact, 6 of the 12 steps are actually just letting GOD do the work.
Here's my problem – I've got spiritual burnout.
For the past 25 years, I've tried to make faith the guiding principle in my life. At least that was the plan before alcohol took over. Prayers, repentance, confession, humility, etc. I've been down that road too many times. That's when I became the pastor with a secret drinking problem. My story was dominated by addiction, with a subplot of depression and hypomania.
I was a hypocrite. I would say God had your back, but privately I lost all hope. We don't talk much now.
"The God of my understanding" had lots of time to get my attention. Like everyone else, he didn't seem to notice how quickly I was sinking.
For hardcore believers, there is a simple answer. It was my defective faith or defective understanding of God. Obviously someone following a spiritual path wouldn't fall victim to the alcohol trap. That idea is even codified in the official 12 step literature.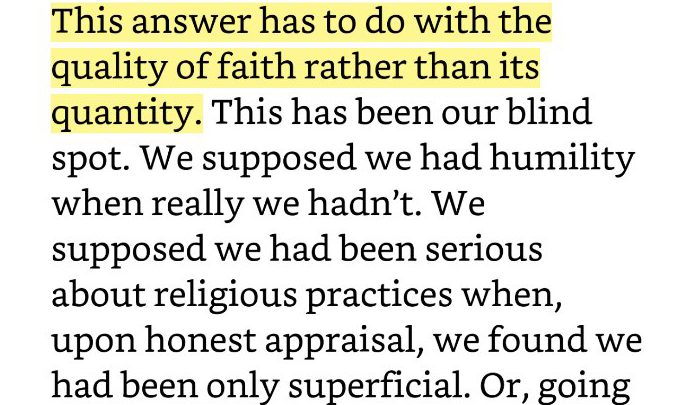 How can I deny I was defective? At some point I stopped caring what people thought about me and for me this included GOD. That was near the bottom of the spiral, after I had given over to despair.
So I'm giving step two an honest try.
I don't completely trust the Kool-aid (cult reference no accident). I'm not ready see my character / spiritual defects as the exclusive root of all evil. That's a later step anyway.
My working theory: alcohol was the villain and I was an eager accomplice. I worshiped a chemical that hacked my brain. I still believe the real me exists, I'm not calling off the search. I'm not ready to accept a theological framework of the 1940s Rust Belt. At this point I take the AA program as descriptive and wise, but very human.
I spent the last few days trying out alternative "higher powers" in my mind. None of them were very convincing. I almost wrote a post about it, but it was too raw.
Here's where I'm landing:
I still believe God exists, something like the historical Jesus minus the bullshit of American religion.
We've had some mutual disappointments in our relationship. I'm going to owe him some amends in step 8.
I'm still alive, despite my reckless way of living. I can give him a hat tip for that.
I need a hand out of this mess (I'm powerless over addiction etc.)
I believe he is ready and able to make that happen.
So, I'm not singing hallelujah but I'm ready to move forward with this program.
I can't see any better options. Let's work on step three.