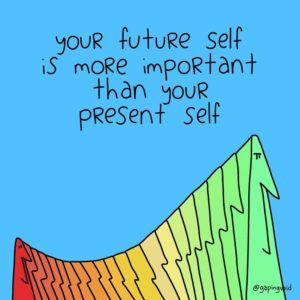 My future self is alcohol free.
That's not wishful thinking but the reality that's pulling me forward one-day-at-a-time.
Dr. Drunkenstine doesn't live here anymore. Sober Tony is the guy in charge.
I've found a lot of help this week in the books and articles of Dr. Benjamin Hardy. While his work isn't exclusively about the recovery project, it gives a wider context for anyone who wants to change.
Hand raised 🖐 That's me and you.
You're not the same person you were in the past. And your future self will not be the same person you are today. You get to choose how you see your past and you get to choose who you'll be in the future.

Benjamin Hardy, Ph.D.
For anyone needed some hope right now, I can't rave enough about his free daily messages or his audio books and articles (just google his name).
The Addicts Future
I've been thinking of this concept upside down as well.
Looking back, the alcoholic me was exclusively backward looking and dedicated to commiserating in the present.
No future in sight, except getting the next binge started ASAP.
Everything sucked.
So I drank more.
Then it sucked more when I sobered up.
No future – no hope.
With alcohol in my life I didn't have the power to imagine anything different.
So let's be honest. That's step one – getting honest.
I hope you are well and honest today.