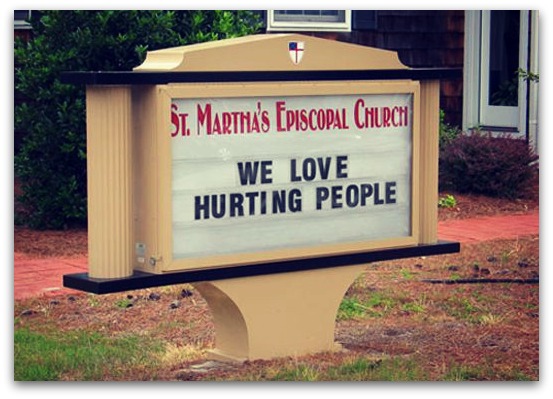 May is Mental Health Awareness Month and I've seen many tweets about ending the stigma around mental illness. It's all very inspiring, but I remember when I was on the other side of this issue.
Not so long ago, I was one of those jerks shaming others into silence.
This is the confession of an x-pastor who can now see how his beliefs harmed people who deserved to get help. I was a hater, even while suffering my own secret mental illness.
Mental health stigma was part of my pastoral training
Twelve years ago I was studying theology in a narrow thinking seminary. I was a Bible thumping fan-boy. Like many others, I checked my free thought at the door and felt blessed to have such godly professors teaching me the truth. I was sold out for Jesus, that meant subverting my own worldview to those who led the Seminary.
We got all the neo-puritan doctrines (only one salvation, a literal hell, strict morality, patriarchy) plus a settled hostility to the social sciences.
Here's a sample of my graduate level stigma training (I'm glad I don't believe this stuff anymore)
1. Always used Bible words to describe sinful behavior. Don't say alcoholic, say drunkard. Don't say sex worker, say harlot. Don't say homosexual, say sodomite. Don't say mentally ill, say demonized. That was the vocabulary God gave us in the Bible, who are we to innovate?
2. Mental illness is always related to sin. It's the sum of personal sin, situations of life suffering, and damage from our fallen nature. In other words, there are no victims. Human depravity is the ultimate cause of all that's wrong – you are broken and then you make things worse by your own failure to seek God's help.
3. Psychology and sociology are blind guides. It can offer no lasting help because it doesn't recognize the spiritual root of man's problems. Without being born again, behavioral science is only making better adjusted souls to inhabit hell. Counseling belongs in the church, it's the role of the pastor to dispense God's truth to help people solve their life problems.
4. Even groups like Alcoholics Anonymous promote false teaching. Their version of spirituality is not centered in Christ, therefore it's opposed to the Bible. In short, AA is a wolf in sheep's clothing. They offer false hope because they don't offer the true gospel. AA is a cult.
Those themes were not extreme examples or offhanded comments. They were the clear implications of getting back to a Bible based view of the world.
I did hear a few moderate voices, but in the early 2000s they were losing their jobs at our school. The ideological pendulum was swinging to the extreme right. Everyone knew to get out of its path.
So whatever my professors and pastors said, I played along. This was the worldview I had chosen and that meant everyone else was wrong.
Even more, I needed a job. That meant getting the right recommendations from those professors and their lackeys. Raising opposing views in class was considered poor form and a sure sign your faith was sketchy.
I believed, supported, and even repeated those ideas
I wasn't some wide-eyed kid. I was a 30 years old father of two children. I wasn't some kind of sheltered redneck. I had grown up outside the church, only "getting saved" after several years of drug and alcohol abuse. I now understand how my own mental illness was attracting me to religion. I wanted Jesus to be the answer because I knew that a monster was living inside my soul.
Before long, I started my 11 years tenure as an assistant pastor. Burnout, depression, and addiction quickly made me useless. Two years into that job, I lost faith in most of what I'd learned at school. Faced with real people, the theories just didn't work. If Jesus was the answer, what was the question?
I became a closet heretic, fearful to share my true beliefs because my family needed my income. My supervising pastor was the embodiment of most of those narrow beliefs. Every week I'd play act our staff meetings, pretend to pray, and hide my growing mental health struggles. Our staff joked and ridiculed. I smiled like everyone else while we passed judgment on crazy people – people just like me who needed real help.
In the final years, I became a closet counselor to others being harmed by our church's approach to religion. They would come to my office to vent their frustrations. I would handle damage control and assure them things were changing. It was all a lie, but how do you tell someone their church is harming their mental health? How could I admit I was a coward who refused to say defend them?
You know the tree by the fruit
But just between me and you
I never do what I want
I do what I'm taught
And I've been learning a lot
About the violence I'm capable of

~ Derek Webb, I Don't Want To Fight
To be fair, many in the congregation wouldn't agree with the staff's point of view. It was a toxic environment, but mostly behind closed doors. The main victims were those who came seeking help – that's something I regret deeply.
Today I'm making​ amends – I want to end stigna not make it stronger.
Today I'm glad that experience is past tense. The best part of my rock bottom is leaving that shit behind. I'm looking for ways to make living amends. That's why I showed up smiling in that church on Easter morning. That's one reason I'm posting my whole ugly story on this blog. Everyone is a victim of stigma, those who suffer and the even the haters.
Let's end the stigma. Let's keep talking mental health.
To be SICK is not a SIN.#bipolar #endthestigma #happyeaster ⛪

— Sober Tony (@sobertony) April 16, 2017