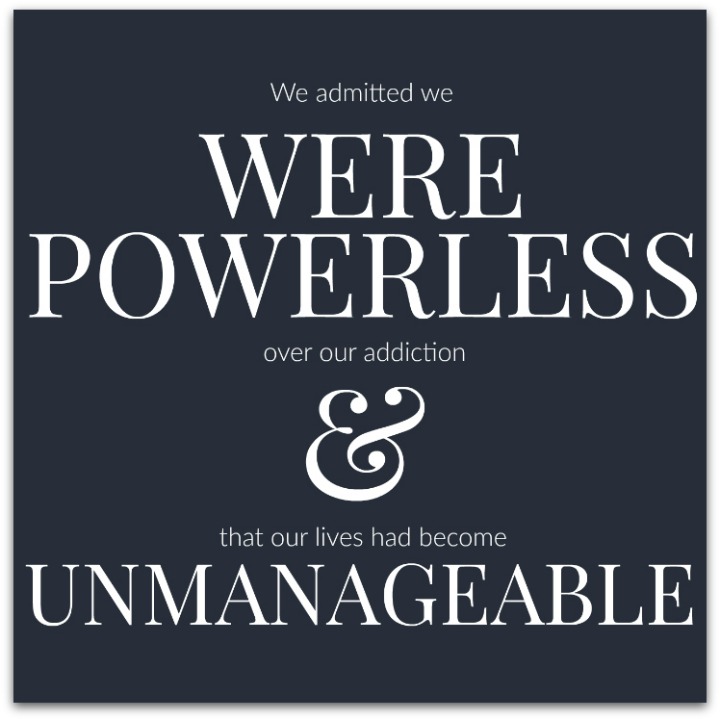 This is the first step in the AA program and perfectly describes my situation one month ago. Alcohol had taken control and I couldn't handle life anymore. I was in a downward spiral, expecting a crash any second.
Today, I'm celebrating 30 days sober.
I finally quit drinking and accepted I was out of control.
By happy accident, I woke up in a perfect situation for self-directed recovery. This blog is just one piece of my program, along with lots of time to learn from addiction resources. I've even found a network of support online that has pulled me through some hard moments. Everything is on hold except working on my sobriety.
Except I really didn't like step #1.
My reaction was so strong that I questioned whether AA could work for me. I know "we admitted …" is the unofficial creed of alcoholics anonymous. Step one is absolutely essential and the starting point for everything that follows.
We admitted we were powerless over our addiction – that our lives had become unmanageable.
The word powerless was my deal breaker.
As much as I hated my addiction and wanted an escape, I didn't want to start a new life with the prospect of never again regaining my independence. I will admit many things, including that my life was a total mess. I'm not ashamed to wear the normal labels: addict, alcoholic, or useless drunk.
I refuse to remain powerless in this struggle – especially if you mean the standard definition.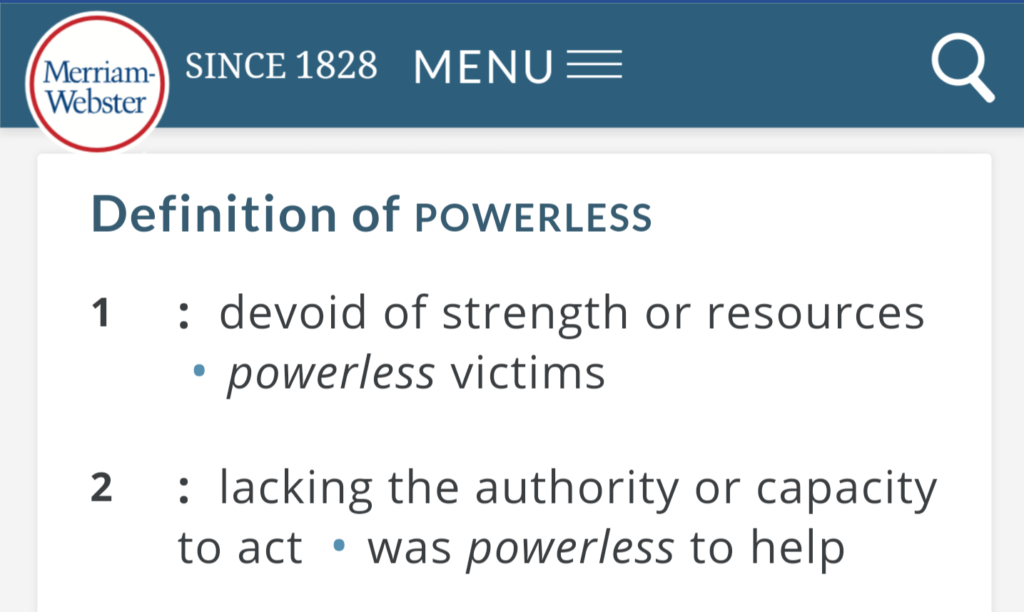 Can you see why this word makes me bristle?
The phrase "powerless over my addiction" is exactly what alcohol has told me for the last few years. I am weak. I am the victim. I lack the resources to fight back, much less win. I don't have the capacity to act. The drink has the power.
Hell no – this is how I know I was done with drinking.
We admitted we were powerless over our addiction – that our lives had become unmanageable.
That's when I look at step one again and realized my mistake. I didn't understand that step #1 is the starting point rather than the final verdict. The powerless part is past tense. We were powerless, that was our situation before recovery. There is hope now because we have found a way to regain our self determination.
I like Dr. Harry's paraphrase of STEP ONE in the book Being Sober
There is a power that wants to kill me.
This is the struggle at the heart of my sobriety. I want out of this alcohol trap once and for all, but it takes honesty to admit that drinking will always take away my power. I must refuse to live and die the victim of a brainless chemical. I must move beyond my own lies and self doubt.
The chemistry can only trick me again if I take the first drink. It's only me who has the power to open or close that door. There is one infallible way to keep the monster out of my body and that is 100% under my control.
After 30 days sober, I am not helpless.
What about the cravings? They only have power when I believe that I need that poison – when I imagine alcohol is my friend. Now I can see the truth and I never want to taste defeat again. I'd rather die. It's more than recovery, it's taking back my right to exist. Sobriety is my new freedom, my super power, my self respect.
Today I fully embrace step #1. Here's how I'm taking my power back:
when I work my recovery with rigorous honesty
when I live ODAAT
when I choose to enjoy my new freedom
when I call bullshit on all the lies alcohol told me
I am taking the power back with one simple choice to not drink.
I am powerless no more.
---
Since this is my first post about working the step, I'm including links to other articles online that I found helpful.